Bingham Flexo Services was founded in 1991 by Ed and John Bingham. The company was founded on providing customers with unparalleled service through a wide knowledge base, quality products, experience, responsiveness and honesty.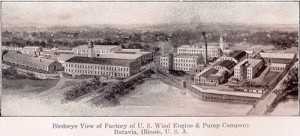 Today, the business is still guided by those same founding principals. Bingham Flexo Services experienced sales team looks for opportunities to partner and consult with customers, with a goal of using their experience and quality products to help solve problems. The team consists of 5 outside sales/service representatives with nearly 100 years of combined experience, and 3 customer service representatives with over 50 years of combined experience. Every employee has been with the company a minimum of 10 years. Our coverage consists of the states in the Midwest, including Pennsylvania, Ohio, Kentucky, Michigan, Indiana, Wisconsin, Illinois, Missouri, Iowa, Minnesota, North Dakota, South Dakota, Nebraska and Kansas.
Current product offering includes anilox rolls and sleeves, gravure rolls, glue applicator and metering rolls, ink pumps and filtration products, anilox cleaning systems and solutions, steel and composite doctor blades, rubber and urethane covered rollers and sleeves, air mandrels, impression cylinders and gears. We also have wide experience with printing ink and plate sleeves.
The primary goal of Bingham Flexo Services is to establish, and maintain, long-term customer relationships through trust, service and standing behind our quality products and manufacturers.