Carbon Fiber Ink Chamber
Strong. Lightweight. And Incredibly Precise.
2G Chamber™
The Original Carbon Fiber Dual-Blade Ink Chamber System
Incorporated into many of the world's most productive flexo printers, the Absolute 2G ink chamber™ is the original woven carbon fiber dual-blade system for all flexo applications.
This strong, lightweight, and incredibly precise blade chamber utilizes extruded carbon fiber for exceptional strength and a grade that's used in aerospace engineering. Built for performance and safety, the 2G Ink Chamber offers a tailored design with the optimum doctoring angle so you can achieve a perfect wipe every time.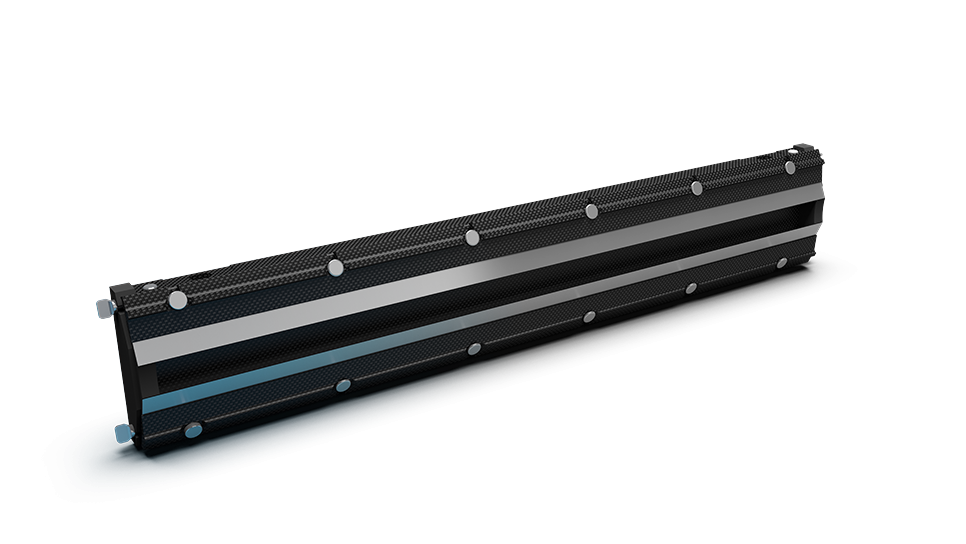 Features & Benefits
Features
High density woven carbon fibre
Tool-free blade replacement
100% stainless steel clamp assembly
Extremely lightweight – 65%  lighter than the aluminium equivalent

less than 20lbs for their 65″ chamber
About 35lbs for their 95″ chamber
Can be lifted safely by one operator

Multiple chamber profiles for your application
Anti-Ghost triple blade technology available
15 year anti-corrosion guarantee
Benefits
Optimum doctor blade wipe and color reproduction
Reduce print unit downtime and chamber set up
Ink retention and savings
Unique vibrations damping construction
No twisting or warping and high temperature tolerant
Easy to clean and maintain
Bingham Flexo Services is a proud sales partner for Absolute Engineering carbon fiber chamber systems
Markets & Applications
Wide Web Flexo
Coating & Laminating
Available Brochures
Absolute 2G Chamber Brochure
Contact Bingham Flexo Today
For More Information
630-879-7300
Or Email Us At
info@binghamflexoservices.com