Anilox Roll Audit
Comprehensive Diagnostics
The Pamarco Anilox Roll Audit is the most comprehensive diagnostic tool available and can be carried out in a relatively short period of time with a minimum of press interruption.
Anilox Roll Audit
Monitor anilox cell volume and proactively prevent printing problems before they occur. Our field techs. will visit your site and gather valuable data from each anilox in your inventory, create a report, and review the results with you to determine current condition and performance of your inking system.
Anilox roll audit provides: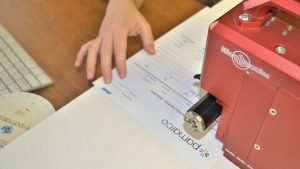 Instant snapshot of all anilox inventory in plant (rolls in and out of press)
Priority listing of all rolls requiring repair/replacement
Highlights any housekeeping/cleaning issue.
Technical recommendations based on our knowledge of the customer.

Contact Bingham Flexo Today
For More Information
630-879-7300
Or Email Us At
info@binghamflexoservices.com