Anilox Roll Cleaner Solutions & Service
For Optimal Roll Performance
Sitexco Cleaning System
The Fastest Anilox Roll Cleaner System In The World!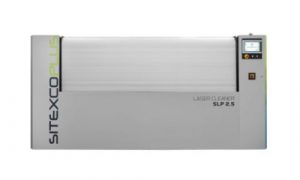 The Sitexco Anilox Roll Cleaner is the most intelligent, environmentally-safe, and effective way of maintaining your anilox inventory. Advanced laser technology, combined with cutting-edge software, allows the user to easily clean ink and coating chemistries of all types. It can also clean multiple narrow web rolls or a combination of narrow and wide web rolls and sleeves with one machine.
Sitexco Features & Benefits
No line count limitations
Cleans any type of ink.
Cleans anilox rolls with journals and anilox sleeves
Does not case damage or degrade cells
Does not generate any waste
Does not require a water sources
Simple user interface, easy for anyone to operate
Proven technology
Automated Anilox Cleaning equipment
The Most Efficient On-Press Anilox Cleaning System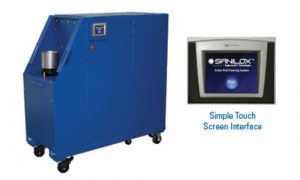 Bingham Flexo Services is proud to offer the Sanilox System manufactured by Eaglewood Technologies. Since the mid 90's Baking soda cleaning systems have been a widely accepted method for restoring anilox roll cell volume. The new generation Sanilox Systems bring a level of automation and user interface which maintain the system and provide consistent performance to any operator.
Sanilox Features & Benefits
Quick and easy to use
Environmentally safe and effective cleaning
On or off press cleaning
Cost effective – Low cost per unit cleaning
Superior performance
No Line Screen or Geometry Limitations
One system cleans anilox rolls of any diameter
A color touch screen makes it easy to operate and track roll inventory data
Increases the life of your anilox rolls
One year warranty and 90-day money-back guarantee
Corrugated Anilox Cleaning Plate Technology
Next-Gen Anilox Cleaning Plate for Corrugated Designed with Production in Mind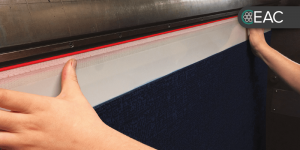 Bingham Flexo Services has teamed up with Efficient Anilox Care to offer an automated and efficient method to clean anilox rolls in press.
The Anilox Roll Cleaning Plate is patent pending technology used to clean and maintain anilox roll volume on a preventative maintenance schedule or when needed. It is as easy to install as a printing plate and should be used as part of a complete anilox cleaning program.
Daily – Run cleaning solution through the print station after using the station to print
Weekly – Run cleaning solution in conjunction with the cleaning plate for one hour
As Needed – Deep clean your anilox rolls with a baking soda cleaner
Features & Benefits
The Anilox Roll Cleaning Plate is made of millions of 50 micron-fiber bristles that not only clean the surface, but get deep into to cells.
The plate is very durable and maintenance free. It eliminates the need for manual scrubbing, the use of harsh chemicals and the safety risk of being exposed to sharp dr. blades. More than one print station can be cleaned at once. It is an inexpensive process and hands free. This cleaning plate is custom made for any printing press to fit any roll size.
Simply mount the cleaning plate on the print cylinder and run with a cleaning solution. Once installed in a print deck, you are free to use the remaining downs to produce product with any vacuum transfer equipment. Cleaning while printing using pull rolls and pull strap is not possible.
As a preventive maintenance method, the anilox roll cleaning plate will maintain rolls at or near top volume. For deep cleaning of heavily plugged cells, the anilox roll cleaning plate will restore volume.
All The Micro-Fiber Anilox Roll Care Plates up to 79'' width for all cylinder circumferences can be made as 1 piece (unless customer prefers two piece). Anything wider than 79" has to be a two section plate, and wider than 158" a three piece plate for all cylinder circumferences.
Reduce downtime
Enhance cleaning schedule
Maintain anilox performance
Extend roll & ink system life
Increase safety

Care® Anilox Roll Cleaner Products
Pamarco has a full range of anilox roller cleaner and care chemicals for water-based, solvent, and UV inking systems. Cleaning chemicals and products designed so that you can maintain consistent volume of your anilox roll, improve print quality, and boost productivity. We work closely with converters to develop cleaning protocol and a perfect selection of chemistry to extend roll life and consistency.
Care® Anilox Roll Cleaners
For Water-Based Inks & Coatings

From everyday cleaners to high strength ink dissolvers, Pamarco provides quality anilox roll cleaners designed to clean the inking system, the anilox, and other print consumables using water based ink applications. Contact the Bingham team to discuss the best cleaner for your goals.
For UV & Solvent-Based Inks & Coatings

Developed for the ultimate cleaning capacity, Pamarco CARE products are providen to remove the most challenging, hard dried inks from rollers, plates, and other print areas. These non-flammable, non-corrosive cleaners effectively clean solvent and UV ink for the deepest clean. Contact Bingham today to discuss the best UV or solvent cleaner for your application.

Anilox Cleaning Services & Supplies
On- or Off-Site Anilox Roll Cleaner Service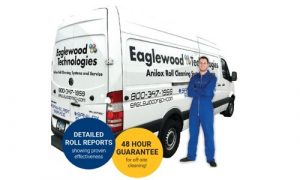 The same technology offered in our equipment is also available as a contract cleaning service. Rolls can be cleaned in your machine or sent to our service location for Sanilox cleaning. We cover a wide range of geography and have service techs available to visit your facility and handle your anilox cleaning needs.
Between deep cleanings it is important to conduct regular manual cleaning of your anilox rolls. We offer an extensive menu of brushes, cleaning agents, and tools designed to assist the day-to-day maintenance of your anilox cell volume delivery. Please click the link below to access our supply options.
To schedule a cleaning call: (630) 879-7300 ext. 0
Bingham Flexo Services is a proud sales partner for Eaglewood Technologies anilox cleaning equipment and services, and Pamarco anilox roll cleaners.
Available Brochures
Sitexco Laser Anilox Cleaning Equipment
Sanilox Anilox Roll Cleaning System
Xpress Anilox Cleaning Service
Pamarco Company Catalog
Markets & Applications
Wide Web Flexo Anilox Rolls
Corrugated Flexo Anilox Rolls
Coating & Laminating Rolls
Contact Bingham Flexo Today
For More Information
630-879-7300
Or Email Us At
info@binghamflexoservices.com