Clean anilox rolls are a critical component to consistent Flexo color reproduction. Color tolerances have never been tighter in the history of Flexo printing and packaging buyers are focused on brand color identity. Bingham Flexo Services offers a wide range of options for maintaining your anilox rolls.
Automated Anilox Cleaning equipment:


Bingham Flexo Services is proud to offer the Sanilox System manufactured by Eaglewood Technologies. Since the mid 90's Baking soda cleaning systems have been a widely accepted method for restoring anilox roll cell volume. The new generation Sanilox Systems bring a level of automation and user interface which maintain the system and provide consistent performance to any operator.
Sanilox offers:
Environmentally safe and effective cleaning
On or off press cleaning
Cost effective – Low cost per unit cleaning
Superior performance
Anilox cleaning service:
The same technology offered in our equipment is also available as a contract cleaning service. Rolls can be cleaned in your machine or sent to our service location for Sanilox cleaning. We cover a wide range of geography and have service techs available to visit your facility and handle your anilox cleaning needs.
To schedule a cleaning call: (630) 879-7300 ext. 0
Anilox cleaning supplies:
Between deep cleanings it is important to conduct regular manual cleaning of your anilox rolls. We offer an extensive menu of brushes, cleaning agents, and tools designed to assist the day-to-day maintenance of your anilox cell volume delivery. Please click the link below to access our supply options.

Bingham Flexo Services has teamed up with Efficient Anilox Care to offer an automated and efficient method to clean anilox rolls in press. The Anilox Roll Cleaning Plate is patent pending technology used to clean and maintain anilox roll volume on a preventative maintenance schedule or when needed. It is as easy to install as a printing plate and should be used as part of a complete anilox cleaning program.
Daily – Run cleaning solution through the print station after using the station to print
Weekly – Run cleaning solution in conjunction with the cleaning plate for one hour
As Needed – Deep clean your anilox rolls with a baking soda cleaner

The Anilox Roll Cleaning Plate is made of millions of 50 micron-fiber bristles that not only clean the surface, but get deep into to cells.
The plate is very durable and maintenance free. It eliminates the need for manual scrubbing, the use of harsh chemicals and the safety risk of being exposed to sharp dr. blades. More than one print station can be cleaned at once. It is an inexpensive process and hands free. This cleaning plate is custom made for any printing press to fit any roll size. Simply mount the cleaning plate on the print cylinder and run with a cleaning solution. Once installed in a print deck, you are free to use the remaining downs to produce product with any vacuum transfer equipment. Cleaning while printing using pull rolls and pull strap is not possible.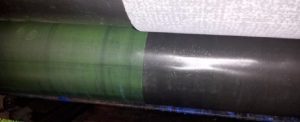 Proven Results!
As a preventive maintenance method, the anilox roll cleaning plate will maintain rolls at or near top volume. For deep cleaning of heavily plugged cells, the anilox roll cleaning plate will restore volume.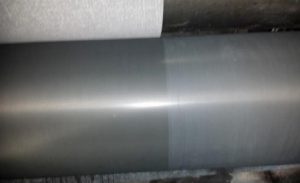 All The Micro-Fiber Anilox Roll Care Plates up to 79'' width for all cylinder circumferences can be made as 1 piece (unless customer prefers two piece). Anything wider than 79" has to be a two section plate, and wider than 158" a three piece plate for all cylinder circumferences.
Sample Pricing
37" Cylinder circumference:
| | |
| --- | --- |
| Width | Price |
| Up to 79" | $1,030 |
| 80" up to 100" | $1,720 |
| 101" up to 120" | $1,835 |
| 121" up to 140" | $2,065 |
| 50" Cylinder circumference: | |
| Width | |
| Up to 79" | $1,260 |
| 80" up to 100" | $1,835 |
| 101" up to 120" | $2,065 |
| 121" up to 140" | $2,295 |
| 66" Cylinder circumference: | |
| Width | |
| Up to 79" | $1,375 |
| 80" up to 100" | $1,950 |
| 101" up to 120" | $2,180 |
| 121" up to 140" | $2,525 |
| 86" Cylinder circumference: | |
| Width | |
| Up to 79" | $1,490 |
| 80" up to 100" | $2,065 |
| 101" up to 120" | $2,525 |
| 121" up to 140" | $2,755 |
| 141" up to 160" | $2,985 |
| 161" up to 180" | $3,100 |
| 181" up to 200" | $3,330 |
All prices are subject to change depending on difficulty, machine manufacturers, or other factors.
---
Watch the Sanilox demo!
Off-Press Operation: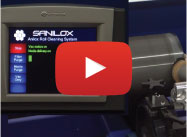 Watch the Laserlox demo!
---
Download the Sanilox flyer

---
Contact Bingham Flexo today
for more information 800-533-5396
or email us at info@binghamflexoservices.com